GO USTE!GOUSTE!GO USTE!GO, GO, GO, GO


W
ith UAAP Season 73's kick-off ceremony last Saturday, I can't help but feel excited to catch a game or two of my school's team in the men's basketball seniors division- UST Growling Tigers, that is. I'm not the only I'm not the only person on earth who's very excited to troop to Araneta Coliseum or wherever the venue
will be to cheer tirelessly for my team as there are thousands of alumni and students alike from the more popular and rich schools (read: ADMU and DLSU) who are more than willing to shed money just to get a good view of the game. Well, I'm contented with upper a and b sections of the coliseum....I think it's more fun sitting there because I think that's where the "crowd" is. Aside from the men's basketball in the senior's division, I'm also looking forward to the women's senior volleyball competition to be held sometime in the second semester of the school year and of course, the cheerdance competition (which I have to see live before I die haha!) Hoping SDT will make a strong comeback this season after failing to land a spot on the top 3 last year.
This year's theme, by the way, is "heroes. The reason behind it, according to UAAP pres. Bernie Oca of host school DLSU, is "because we need heroes. I want people to realize there's a hero in each and every one of us."
Well, this reminds me of Eric Peñaflorida's famous "
the hero in you is waiting to be unleashed" during his acceptance speech when he was named 2009 CNN Hero of the Year.
In addition, Oca also explained that the recent turnover from the Arroyo to the Aquino administration has something to do with it also because he wants all UAAP member schools-athletes, officials, students, and alumni- to be "heroic and help build our leaders build this nation." How dramatic, indeed.
Anyhow, let's just hope that this theme will be realized and carried out for the rest of the season.
Can the Blue Eagles defeat their crown and go for a three-peat?
Now, on to my thoughts about the Season 73 opener- both the opening and the games itself (okay I'm a sports analyst wannabe haha). Segue: Thanks to the available TOA, I was able to catch the opening and finish the second game yehey:)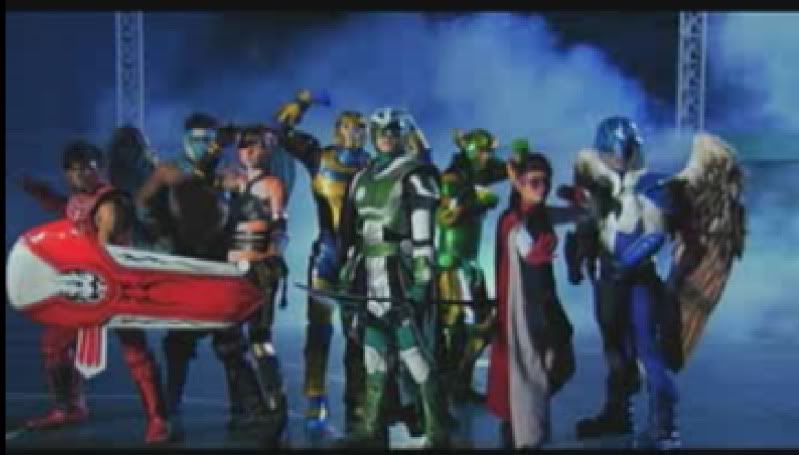 Opening ceremony
It's more laid back this time, based on my observation. I mean, the dance number involving the athletes of the participating schools is like the one you see being performed in your school programs. I like the music and makes me want to dance hehe. I also enjoyed Gary V.'s "Hataw Na" performance. I mean it's Gary V. and just seeing him perform, what can I ask for, right? I skipped Ogie's number by choice. But overall, I think the opening ceremony is not that impressive, save for the mini-movie which I think is somewhat cool. The effects are similar with what I saw in Mulawin or Darna... but I think the mini-movie's effects are better haha. Fantaserye-themed baby! The mini-movie is a hit, at least to me. And the costumes of the eight school representatives? I like some, others so-so.
Overall, the opening's a so-so and easily forgettable. The production is not that spectacular, despite Ogie and Gary V.'s presence. I think it's also inappropriate to sing Ogie's composition used in P-Noy's inauguration. I mean, we get DLSU's point of adopting heroes as this season's theme but that "makabayan" song (I'm not aware of the title) plus a clip of P-Noy's inaugural speech...WE ARE IN THE UAAP, just to remind you. The mood should be more festive and main focus should be Filipino athletes and ordinary students. It's good that the tournament is getting involved with national affairs, but they can do that in the proper venue, I guess. This is a SPORTS gathering not a POLITICAL event. We have too much dose of politicking.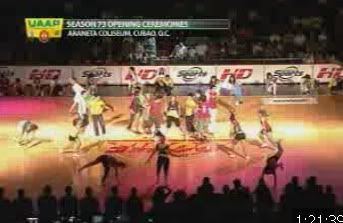 10...9...8...7...654..3..2...1
Let the games begin!
I was right with my first game prediction: a DLSU win over UP. The Maroon Katipunan-based school may have defeated the Archers last year, but once is enough. I believe that if it's basketball in the UAAP, it has to be DLSU over UP. Despite Woody Co, Martin Reyes, and Mark Lopez, UP's such a young team as compared to the Archers' rich experience in basketball despite losing its veteran players. They still have Webb and recently Simon Atkins whose playing good. Plus a hottie haha! But I'm not booting out the Maroons especially with the addition of their Fil-Am recruit. I observed that they are not as persevering as their Taft-based counterparts during their game...lazy to get some rebound. But who knows in their upcoming games.
Made a mistake on favoring with UE haha! I'm no UE fan and the reason why I favored them on last saturday's game is simple: the Tigers are inconsistent. There are days when they are playing good, most of the time they're all over the place...that's how bad it is. But I'm a Thomasian and will be a Tiger supporter forever---regardless of the standing. Now with their upcoming game in Ateneo, I still think that the Tigers will not win this one...unless if Camus, Afuang, Bautista, Tinte, and the Daquiaog rookie will be in their perfect condition, they might beat the defending champs. Also, if the two Jerics will also play good, they might get this...hoping for a win but I will not be surprised if it will not happen.
King Archer takes oath: SimonAtkins leads the oath of sportsmanship...simply hot!
With NU and ADU's game, I knew it will be ADU. And between FEU and ADMU, I don;t know. Both teams are though. As many people would say, it would be an ADMU-FEU showdown in the finals.I think each team now has a shot in beating ADMU especially now that Al Hussaini and Baclao's out of the team. I mean these two guys are the main reason why ADMU won last year---it's how these two guys defend the perimeter and the basket most especially. But Long and Salamat are still there.
Oh well, let's just see how this season will go...
ONE FOR UST!